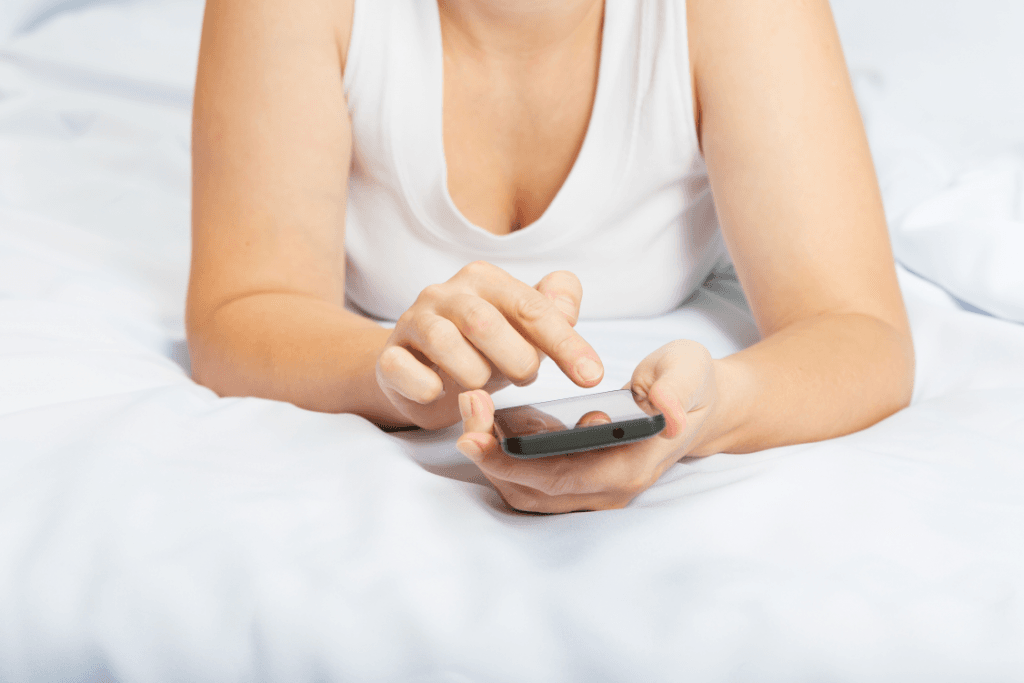 Sexting has become incredibly common among couples, but so few guys know how to use it to their advantage. If you want the power to turn on any girl with ease, you will certainly want to get a few tips. Believe it or not, a lot of girls really respond to sexting.
Sometimes plain old text can be a huge aphrodisiac, especially when you choose your words carefully. In this article you will find some of the best sexting examples to get you started. This will go a long way towards improving your overall game with girls.
You'll find that some of these lines can also be great for girls that you want to get into your bed. There is nothing sexier than a guy who knows how to use his words to turn on the opposite sex.
The Best Sexting Example Messages:
I bet you are so good in bed. I can't wait to find out how good your body feels against mine.
All I can think of is how soft your body is and how much I want to lick every inch of it.
I'm lying in bed getting so hard thinking about how beautiful you are from head to toe.
Every single part of me is aching to kiss and touch you naked in bed.
I can't wait to have my mouth around your perfect tits again.
I just keep thinking of how I really want my head between your legs, making you squirm with pleasure.
Tell me exactly what you want to do my hard cock.
I want to spray your beautiful naked body with whipped cream and lick off every little bit.
There is nothing that I would love more right now than to grab your hot ass while I kiss you deeply.
Are you a bad girl? Because I think you need to be punished.
I can't even explain how turned on I get thinking about you naked.
You are the sexiest girl in the world, and my cock knows it.
I am going to rip off all your clothes, throw you on the bed and make you moan with pleasure.
I want you to show me just how bad of a girl you are.
I will explore every inch of your body with my hands and tongue.
I had the hottest dream last night about being deep inside of you.
I love nothing more than licking between your legs and hearing you moan my name.
I want to slide my hand down your pants and finger you while we make out.
I'm going to kiss your soft, beautiful neck while I worship your flawless body with my eager hands.
This morning I got so worked up in bed just thinking about how damn sexy you are.
Lie down on the bed and spread your legs so I can bring you to a whole new level of pleasure, sexy girl.
My hands are going to be all over your body.
Just looking at your sexy butt makes me insanely hard, I can't help it.
What do you have on right now? Can I take it off?
I'm going to find some really creative ways to use my tongue on you.
All I want right now is to watch you get on top of me and bounce up and down.
I think you have been a bad girl. Bend over so I can spank that hot little ass.
I have my hand down my pants right now thinking about how much I'm going to enjoy your sexy little body.
First I am going to kiss your lips and then slowly work my way down to your other lips.
I absolutely love kissing and feeling your smooth sexy thighs.
When I get between your legs, you are going to get so wet so fast.
Just lie down, spread your legs, and let my tongue make you shake with pleasure, beautiful.
I love making you wet, and I can tell you love it to too by how much I make you moan.
I simply cannot get enough of your beautiful body. There is no girl as sexy as you are in the world.
I want to lie naked on the bed with you and feel your body while you stroke mine.
I love nibbling on your ear while I whisper what I am going to do to you next.
I can't stop thinking about how hard I am going to come with you when we are in bed next time.
You are going to feel me so deep inside of you.
I want to watch you take all of your clothes off and slowly climb into my bed naked.
There is nothing hotter than when you rub my leg and start getting me hard under my jeans.
I am dying to see your naked flawless body.
My cock is so eager to be inside of your tight pussy.
I want to push you down and take control as I thrust deep inside of you.
You are going to know what it means to really be pleasured next time we are in bed together.
Only you can get me this turned on.
Your naked body is the best thing in the entire world.
I want you to start touching yourself like I am touching myself right now.
I am going to show you just how much I love your body, with my tongue.
I'm so horny from the sexy dream I had about you last night.
I'll use my hands to make you quiver with pleasure over your entire body.
While sexting might seem a little straightforward, a lot of girls love it. You just have to make sure that you say the right thing. Girls love it when a guy tells them what they want. The fact is that women get turned on by reading sexy things even more than men. This is why it is so important that you practice the art of sexting. Once you really get good at it, she will be all yours.