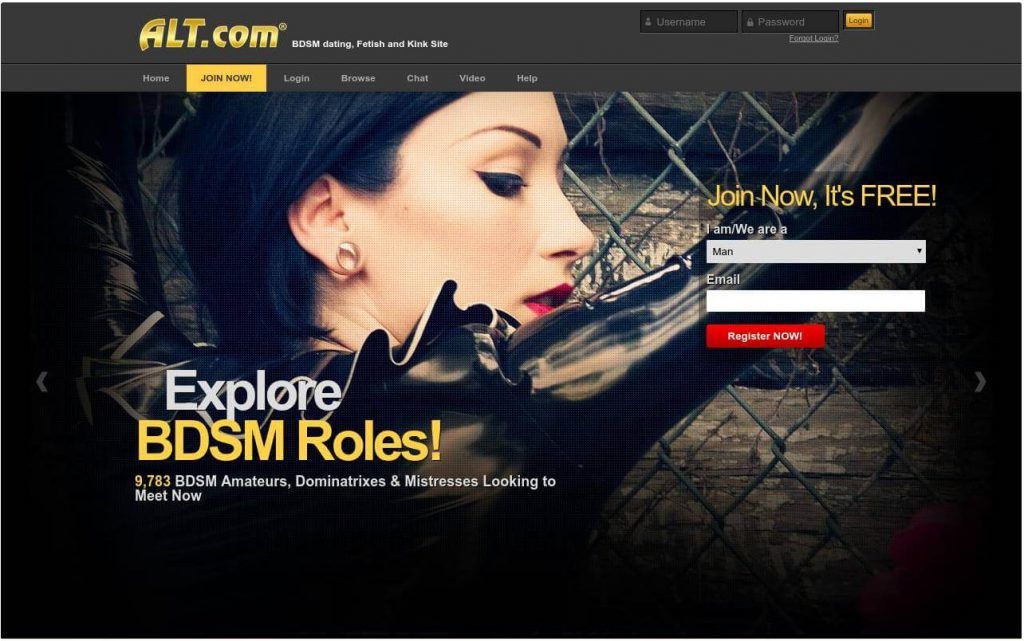 If you are looking for an adult dating website that caters to the sexually adventurous, Alt.com is worth taking a close look at. This website specifically caters to those who are into BDSM or bondage. You can use this site to find likeminded men and women in your area to have lots of sexy fun with. While there may be a lot of dating sites on the internet for kinky people, this one has a number of special things to offer.
Signing Up
The whole signup process of Alt.com only takes about five minutes to complete. There are five steps that you must go through before you can start using this site. You must first select your gender or the "couple" option if you are registering an account with your partner. You also have to provide some other details, such as your sexual preference, body type, marital status race, and other things. These details will help match you up with the right people in your area. You do have to verify your email before you can complete your profile.
Features
Alt.com offers some pretty incredible features that you will want to take advantage of. You can create a "Hotlist" of members that you find attractive and connect with them. The Cupid Report feature will allow you to see the members you have been matched with. This will provide you with a very efficient way to find the right men or women to hook up with in your area.
The Who's Viewing Me option that this site offers will let you see which members have viewed your profile. You can decide to deactivate this feature at any point if you decide you don't like it.
All members on this site can choose to broadcast live videos via webcam. You can also interact with members via the Friend Network and private chat rooms. You have the option of sending voice messages to members that you are interested in as well.
There is another cool feature that lets you create your own blog, which you can update as often as you like. This site also has custom magazines and a very extensive collection of BDSM and other fetish videos to choose from.
Some of the features you will get with a Silver level membership include faster profile and photo reviews, 24/7 email tech support, ability to search for members by distance, and up to 500 people on your hotlist.
Some of the features that Gold level members get include access to Super Search, up to 1,000 people on your Hotlist, and ability to view email messages on Alt.com for 120 days.
You can earn points by simply using various aspects of Alt.com. These points are given whenever you refer friends or even update your status. You have the ability to purchase points, which can be used to buy sex toys and gain access to private chat rooms.
There is a VIP membership option that you can choose to upgrade to at any time. This membership level will provide you with a special search function that makes finding likeminded people near you a lot easier. You will also get listed in Cupid's Report, and receive notifications when someone reads a message you send. While you do have to pay extra, some people will find that it is well worth the additional expense.
Advantages
Some of the advantages of using this site include:
Free registration: You can choose to maintain a free account on this website, which is always nice.
Lots of communication options: This site gives you lots of different ways to connect with people you are interested in, such as instant message, voice messages and video chat.
Search options: There are many different filters you can use when searching for members on this site. This makes it much easier to narrow down your local options.
Simple interface: The simple and easy-to-use interface of this site makes it a breeze to navigate through.
Disadvantages
Some of the disadvantages of using this site include:
Limited free features: While you don't have to pay for membership, your options as a free member are seriously limited.
Cost
You can choose to maintain a free account on Alt.com, but we recommend that you check out some of the other membership options that are available. One month of the Silver membership is $19.95, and one month of the Gold membership is $29.95. You can get three months of Silver for $11.99 or three months of Gold $19.99. A year of Silver membership costs just $8.95 per month, while a year of Gold costs $13.43 per month. This site offers one of the better deals when it comes to casual dating sites. The VIP membership level is $29.95 per month, but it has a lot of great features that can help you hook up with minimal effort.
Who Should Use Alt.com?
Anyone who wants to find other people who are into BDSM and other kinks in their area should think about signing up on Alt.com. This website is perfect for those who have certain fetishes and want to hook up. Those who enjoy live cams and video chat will also want to think about giving this site a try. It will provide you with a whole community of people who are into the same things as you.
Conclusion
We really like a lot of things about Alt, including all of the features it offers its members. While you do have to pay for membership if you want to access most of these features, it is well worth it. There are a lot of people who use this site, and it is a great resource for those who are really into BDSM and other things that are generally regarded as "taboo". There are some very affordable membership options available, and each level has something different to offer. We highly recommend that you take the time to look into these membership options before making a choice.
Click here to access alt.com