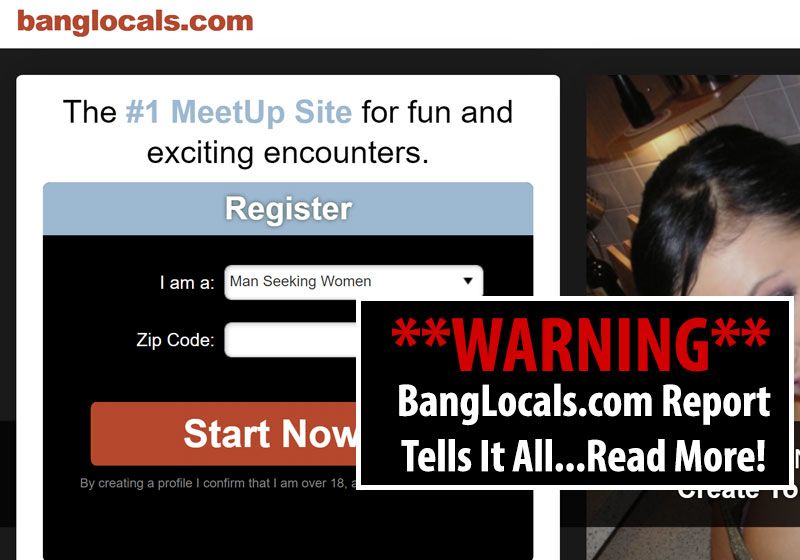 When it comes to finding people in your area to hook up with, the internet has a lot to offer. BangLocals is one of the premier casual encounter sites on the web. There are a number of things about this particular website that set it apart from the others. If you want a quick and convenient way to find local men or women in your area, you'll definitely want to read this review. We are going to closely examine everything about this site so you can decide if it matches your needs.
Signing Up to BangLocals
It doesn't take very long at all to sign up for a BangLocals account. The first thing you'll have to do is choose your gender and the gender you are looking for. Next you will be asked to submit your zip code. Once you have filled out these details, simply click the "Start Now" button below.
Confident enough to give a try? Check out BangLocals and
START DATING
The next step involves submitting some basic information. This includes your email address, mobile phone number, password, first name, and last name.
Before you can complete the signup process on this site, you will be asked to verify your age. This will require you to submit your credit card details. You can use any major credit card to do this. Keep in mind that your credit card won't be charged anything when signing up. You will, however, have the option to pay for a premium membership later on.
Profiles
You will find that user profiles on this site tend to be fairly detailed. Some of the details in these profiles include gender, age, body type, and location. You'll also be able to say what exactly you are looking for. This information will give others a better idea as to whether or not you are a match for them, and vice versa.
Every user has the ability to upload numerous photos and videos of themselves as well. You will need a premium membership to view this content in other user's profiles.
One of the unique things about BangLocals is that it uses a rating system for user profiles and videos. This will give you a better idea as to which users are particularly popular. You will have the ability to rate other users, and they can do the same with you.
As a premium member, you'll also be able to see who has viewed your profile. This list of frequently updated, and it will give you a better sense of which users are interested in you.
Contacting Other Users
This website offers multiple ways to interact and reach out to users that you are interested in. It is important that you explore these options.
Finding Other Users
The search function that BangLocals offers is fairly comprehensive. You will have a number of different search filters to choose from. These filters will go a long way towards helping you find perfect matches with users in your area. You can filter search results by gender, age, location, and body type. There is even a "blocklist" that allows you to filter out certain members that you'd rather not see in your search results.
There's also an "activity" filter that you can use to find users who are online right now. This is a great feature to take advantage of if you are looking to hook up right now. You will be able to see all of the users who are currently on this site. Once you find someone you are interested in, you can send them a message.
You will also have a "content" filter that lets you search for users with nude photos and videos. It is definitely something that you'll be grateful for.
This site uses GPS to determine the location of you and all other users on this site. You will therefore be able to see approximately how far away each person is. This is a nice feature that a lot of other similar sites do not offer.
Messaging
You will have the option to send direct private messages to members on this site. This feature does require you to pay for a premium membership, but it's definitely worth it. You'll also be able to read all of the different messages that you get from other users.
Friends List
You can compile a list of users that you are interested in, which will make this process much easier overall. This site allows you to add up to 50 different friends at a time. You can add users to this list as you browse through profiles. This way you will know which ones to come back to later on.
Send Flirts
There is a "Send Flirt" option that you can select in any given user's profile. This is just a way of letting a user know that you are interested in them. You will need a premium membership, but it doesn't require you to spend any extra money.
Send Gifts
This site also allows you to send a variety of virtual gifts to users you are interested in as a way of enticing them. It can be a very effective way to grab their attention and stand out from others. You will have to pay extra to send gifts, and the amount depends on which gifts you select. The more money you spend, the more likely you are to stand out.
Membership Cost
You don't have to pay anything to sign up for an account on BangLocals, but you'll be very limited in the features you can utilize. Fortunately, this site does offer a 1-week trial for those who are interested in this site. After the trial period ends, the credit or debit card you have submitted will be charged $39.95 per month. While this is a bit on the expensive side, it isn't that bad compared to similar sites on the web.
User Base
BangLocals has users from all over the world, but a majority of them are men. This is to be expected, as it is the case with an overwhelming number of dating and hookup sites. They do, however, have an impressive number of daily active users. This means that your chances of finding men or women in your area to hook up with are fairly good.
Website Design/Layout
The layout of this site is a bit outdated, but it's not all that bad. You shouldn't have much difficulty searching for users and messaging them. While it could use a bit of an update, there is nothing too egregious here.
Security
This website uses standard 256-bit encryption to keep all of its users' information secure. They offer a security guarantee, so you can rest easy knowing that none of your details will be compromised. This includes any photos or videos that you might upload on this site.
You will be able to look through this site's extensive privacy and safety policy. All secured payments are processed discreetly and securely, so you'll have nothing to worry about. The website's name will not show up on your credit card statement. Every bit of data that is processed through this site is kept secure. This means that you won't have to worry about any of your information getting stolen or being compromised in any way.
Customer Reviews
There are quite a few different reviews from people who have used BangLocals, and a vast majority of them are positive. This is a strong indication that this website is well worth giving a try. A lot of people have praised this site for its large active user base, as well as its intuitive overall layout. There are also a good number of users who say that this website makes it easy to find people they in their area that they are interested in hooking up with.
Final Thoughts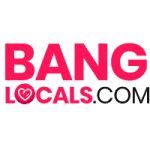 BangLocals is one of the best websites on the internet for those who want to hook up with men or women in their area. It is easy to use and has a good amount of active daily users. If you are looking for a quick and convenient way to hook up, this site has it all. You'll be able to register for free, but a premium account is needed to do pretty much anything. There are tons of profiles to browse through, and plenty of filters to narrow down your search results. Overall, this is definitely among the best places on the web for people who are interested in casual encounters.
Overall Rating
Summary
BangLocals is one of the premier casual encounter sites on the web. There are a number of things about this particular website that set it apart from the others.
Quality

Profiles

Price

Navigation
Pros
Large and diverse overall user base
Free trial period
Many different ways to engage other users
Variety of search filters to narrow down results
Ability to upload and view photos and videos
Profile and video rating system
Completely secure
Sign up for free
Cons
This website pretty much demands that you pay for a premium membership. You won't be able to do much with a basic free account. There's also the fact that age verification requires a credit card, which is not standard practice.