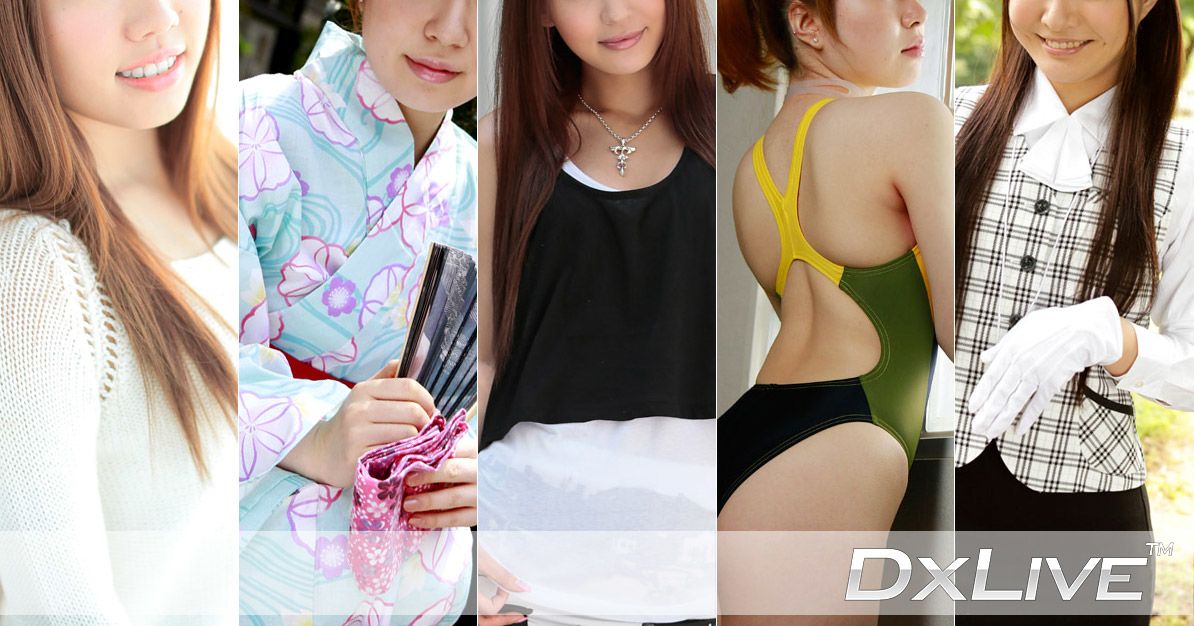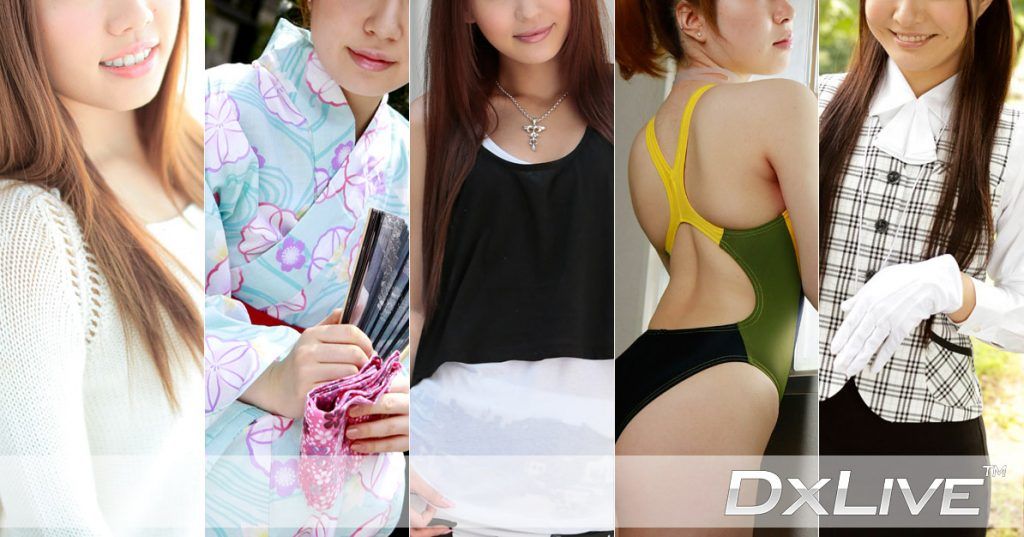 At a first glance, DXLive might seem a bit confusing. The website is based on Japanese live sex cams – excellent for those who are into those doll faced models. Lately, there has been a growing interest in Asian women and this website can't help anyone with yellow fever satisfy their needs. Luckily, it has an English version as well. They're also closed captioning and subtitles for those of you who are hard of hearing or appreciate reading along.
WORLD's HOTTEST Sex Cam Site Waiting Just For YOU! Visit
DxLive.com
Luckily, it has an English version as well. You are asked something about your age in Japanese and you can answer in both English and Japanese. Choose the English option and the website will automatically go to the English version. But then, is it worth your time and money? Every cam website has its good and bad qualities, but we have done the research and checked out the site for you. By doing this, you won't waste you valuable time on a lackluster site.
You also won't sacrifice your money and give out your personal monetary information to a site you will not choose to continue with. This DXLive review will give you all the details you require about what is inside. So, what should you know about DXLive?
Interface and Style
The website interface is quite stylish and pretty coherent. It is hard to get lost because everything is readily available. You have a few stats on the main page, such as the total number of models online, as well as the total number of registered models. Each thumbnail gives you some details, such as whether the model has a microphone or a remote toy to vibrate when you tip. It will also tell you whether she is new (up to two months) or really new (up to five days).
If you choose to be a frequent visitor to this site, knowing which girls are new will be a big help to you. Variety is an important factor in cam sites and pornography.
The good news is that even if this is the first time you are on a live sex cam site, you will get around it pretty easily. New users can take an interactive tour, which will explain pretty much any major feature.
Models and Performers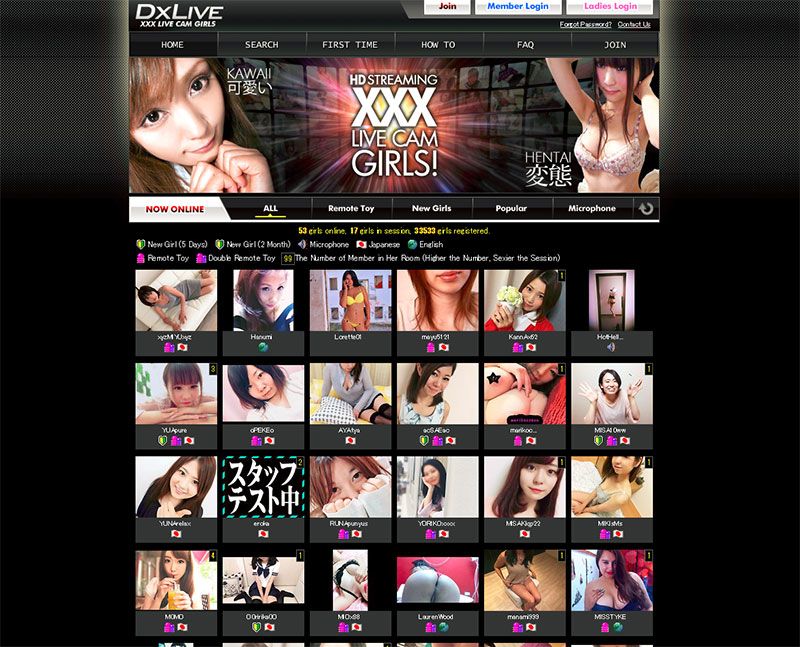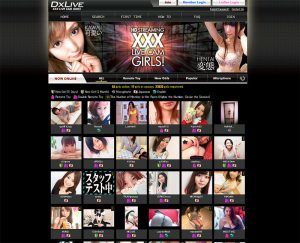 At this point, there are just over 40,000 girls registered – both amateurs and more experienced cam girls. The number keeps growing on a daily basis though, so do not be surprised to see lots of new girls sign by performers' names. Maybe encourage them a little and go in to say hi or drop a tip. Plus, since the girls are new, it will be easier to interact with them because they will not have amassed a large following yet. Your requests and messages are more likely to be seen.
No matter which category you go into, you will find models' thumbnails. Click on the one you like and a new window will open. Having everything in new windows can be a bit annoying at times, but let this be the only inconvenience. But if you like to scroll around on porn sites while listening to one of the videos, then you will enjoy this feature. It helps keep you in the mood while you find the perfect cam girl or video that suits your tastes.
Language Barrier and Communication
Unless you are Japanese, DXLive might put you off because of the language barrier – do not let that happen. The website will compensate through quality as pretty much each of these girls is immaculate. There are language indicators by each babe's thumbnail though. Some of them speak English, while others do not. It can get a bit frustrating at times, especially if you pay for a private show. However, there is a translation feature. Stick to basic words or the automatic translation might go wrong.
But this could be a great opportunity to learn how to navigate a non-English website. Don't let the facts that this site has a foreign language put you off. Some of the most beautiful women in the world are not from English speaking countries and you don't want to miss out on them! Plus, you never know what you might find if you get lost on this site! If you click on a video that you are not sure about, it could lead you to a brand new interest or fetish that you never knew you had.
In terms of communication, models with microphones are better because hearing them talk and moan will add to the overall experience. You may have to put up the volume on your headphones if you can't hear well. Hopefully, you live by yourself so no one can ruin your "alone time."
Camera Quality and Requests
Camera quality is good – classic cams are more popular than HD cams. No DXLive review will ever really complain about it though, as you can see what you need to see. Models and their rooms are well lit and details are quite visible. Although, if you make a request, you can always ask the girls you are watching to zoom in or change the camera angle.
In terms of requests, it depends from one model to another. Some of them might take their tops off within seconds, while others may request lots of begging to have them turned around sliding fingers everywhere. The remotely controlled vibrators make a show quite hot, especially as you have control over them.
Payments and Subscriptions
There are more ways to pay once you decide on a subscription type – something for everyone. The same rule applies when it comes to subscriptions. Start with something low and short first, to make sure you actually enjoy the models on site, then you can upgrade.
The local currency is points. Although it is not a general rule, a point is usually worth a minute. It is important to know that some performers charge other prices. It depends on how popular they are and what their personal prices are. Be sure to investigate and research every cam performer's prices. You don't want to spend a large amount of points just to realize that you are not getting the amount of screentime that you thought you would get.
New members can take advantage of a few bonuses that change on a regular basis. But generally speaking, you will probably be able to purchase some minutes for a really low price. You can normally use such a bonus once only.
Who DXLive Is for?
DXLive is mostly recommended to those into Asian chicks. There are mostly females there – almost no guys. If you are into good looking girls dressed immaculately, this is the perfect place for you. One of the biggest draws to this site is how the girls act. Asians girls tend to be shyer and have high voice than other ethnicities. So if you're into girls who have a very cute attitude and are a bit childish, then you will enjoy this site. Although there are many cam girls and options, don't expect there to be a lot of domination and femdom if you are into that.
There are obviously a few contraindications too. If HD cams are your thing, you might be a bit disappointed at times. Also, most models are young. Even if they are in their late 30s, they still look like teenagers. If you are into European or American mature models, this place is not for you.
What I Like about DXLive?
According to almost every DXLive review, this website does it better than everyone – quality over quantity. It may not have thousands of models online at all times, but it has some of the finest dolls out there.
You will also love how eager those models are to satisfy you. Most of them will work like your slaves – ask them to turn around and show you their butt cheeks, then give them a few seconds.
The simplistic and user friendly interface is not to be overlooked either. Anyone can find their way around the website within seconds, yet you have a helping bar too.
Finally, the automatic translation makes communication way easier.
What I Don't Like about DXLive?
If there is one thing some might complain about, that is the lack of HD cams, which are quite limited. Other than that, every issue has been successfully tackled overtime. The lack of HD cams are not a big deal, but a show is a show and performers should keep up with customer demands. You can send in a customer suggestion and say that you would like to see more models with HD cams. Also, only choose to visit the girls that have HD cams.
Conclusion
In the end, this DXLive review should tell you everything you need to know for informed decisions. The website does raise to the expectations and represents a leading live sex cam portal if you are into Asians.
Overall Rating
Summary
At first glance, DxLive looks pretty stylish and is coherently set-out, but suffers from a lack of online performers. Nonetheless, with the cute chicks that are present, overcoming the language barrier shouldn't be an issue. These girls are eager and willing to please and know exactly how to put their points across.
Quality

Content

Price

Navigation
Pros
Straightforward interface
Automatic translation
Many details on each model
Communicative and friendly models
High quality models
Cons
Not too many HD cams
Some girls might find it hard to understand you and vice versa