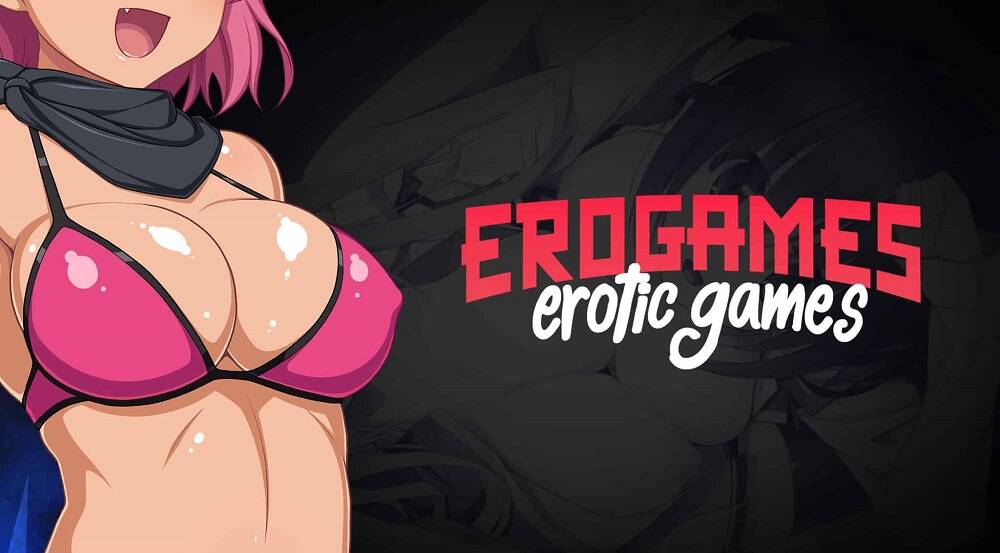 You can never play too many video games. That is our motto here on this website. But what if you have plenty of hours in the day, but you ran out of games to play?
Uncertain gaming is one of the worst situations a game can be in. But it does not have to last for long. With a stable and strong internet connection and a laptop or computer, there are thousands of games available for you to play all over the internet.
And some of those games are in a category that you may have never heard of adult games. If you are interested in seeing some stimulating pixels and unusual choices you haven't seen on any other site, then you've come to the right website. Erogames is a fantastic site with so many different minigames and options; you will have a hard time walking away from your computer! But what is Erogames, and what should you expect?
What is EroGames?
Erogames is a website containing more than 30 adult games. When we say adult, we don't mean like playing the stock market or doing your taxes. When you play these games, you are in for a late-night treat because these games are all about nudity, sex, adult situations, and having a fun time with one or more characters. With more than two dozen games, this website has enough variety to satisfy whatever need you have to scratch.
To scratch that urge, you must search through the main page for all of Erogames' games, and once you find a game you like, you can click on it and start the fun.
Type Of Games Available?
Adventure games – Battle Characters and level up with sex to get new clothes and unlock new lands!
Puzzle games – Do you want to use your brainpower to figure out a way to take off your romantic interest's clothes? Then try out a puzzle game!
Clicker games – This type of game is great if you don't want to solve a puzzle or thing to Heart. Just repeatedly click on different parts of characters' anatomy to make them squeal and moan.
Harem games – Why in the world would you play a game where you only have to choose one girl when you can choose six or more? You know what they say, the more, the merrier!
Visual novel games – Do you like to play games with an intense and well-thought-out storyline, then this section is right for you.
Can you sign up?
If you enjoyed playing on EroGames and would like all of the benefits of membership, then Erogames has that option available. The website allows you to create a free membership so you can save your favorite games.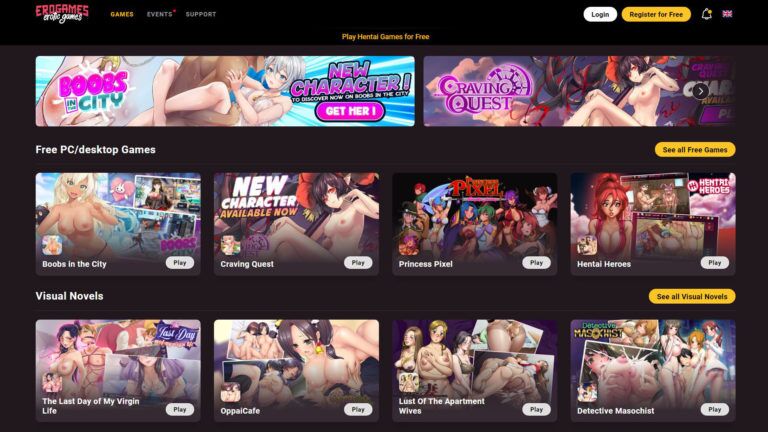 It also allows you to use Facebook to log in, so you don't have to remember a separate password. However, you may not want to use the Facebook login if your mother is one of your friends! Erogames also give you the option of sending messages and making friends, keeping your achievements and scores, and showing your friends online and offline.
Bnefits of an Erogames membership:
Save progress on certain games.
Send private messages.
Leave public comments on videos and games.
Data transfer from one device to another
You also have the choice of becoming a VIP member! But what does that mean?
No matter what kind of membership you have or website you joined, there is just something great about having privileges that other people do not. This is especially true if you are a VIP member and you have access to perks that regular members do not have.
If you're the type of elite gamer who wants exclusive access, then Erogames has quite a surprise for you. But in the past three years, Erogames has created a VIP membership for anyone who wants to pay top dollar to the site. Now your dreams of becoming a VIP for one low monthly rate can come true!
If you are a VIP member of Erogames, you will have access to all kinds of different perks. Some of these perks include being the first to test out a new game, you can change the outfits of certain characters when you play eligible games, create an album of private videos that you can refer to anytime, and you can change how certain characters look in certain 3D games.
Does this website have porn?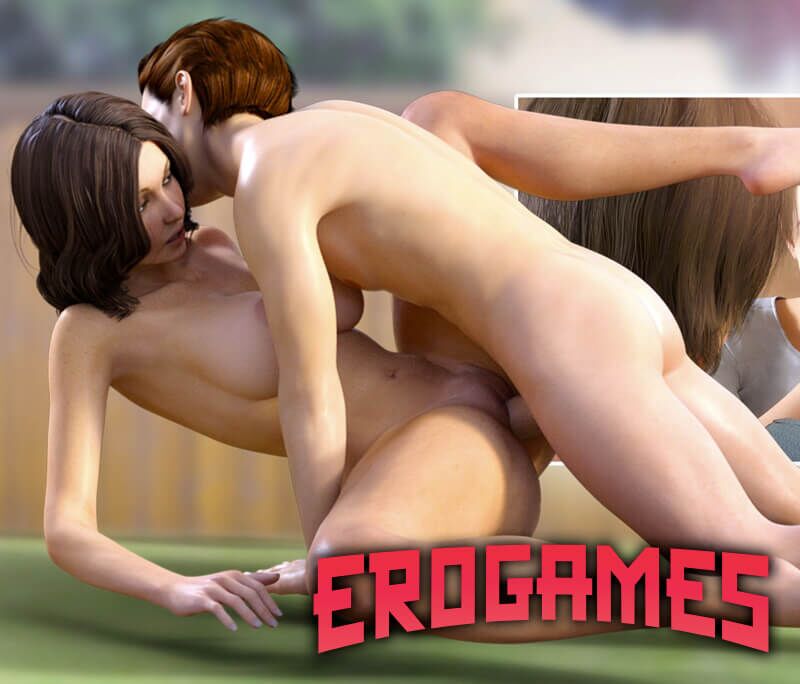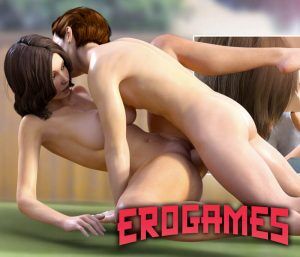 Many gamers from all over the world enjoy all of the games on this website. But what if you want to take a brain break and just sit back and watch a video or two? Do you have to leave the website and visit a different one? You will have to switch to a different tab for most gaming websites and load up a video porn site if you want to take a brain break, but not for Erogames.
This website has many adult videos for its viewers and visitors to watch in between games. There is no need to travel to a different site or close down your game to view a video that is interesting. And every adult video on the site is free for anyone to watch.
What do Erogames not have?
Although there are many benefits to playing adult games on Erogames, there are some downsides as well. Because Erogames is not a massive multimedia company, some of their games are lacking in some very important gaming features. Here are some small features that you should not expect when you log into Erogames.
Two-player games – All of the games on this website are for one person only. Within their games, there will be multiple NPCs and characters to choose from, but none of them will be powered by a real human being. So, you won't be able to invite your lover or your friends with benefits to play along with you. All these games are for solo players. But if you don't plan on inviting any friends to join you on your all-night fapathon, then this issue should not bother you.
Membership only – However, the biggest feature that Erogames does not have is the ability to play any of their games without a membership. That means if you want to play a game on this website for even five minutes, you have to sign up for membership.
Signing up – means giving your name, age, email, and location if you want to sample or play the games. There is no option for you to play the game without signing up. So, for the players who wish to instantly play without signing a contract and forking over their identification, this website will be a turn-off.
Why you should use Erogames.
The number one reason you should use this website to play their naughty adult games is their content and variety. When you play one of the games on this website, you will never have the same experience twice. And if you ever get tired of a particular game, you have more than two dozen other games to choose from.
Many of their games are available to play on smartphones and PC. And since you have a membership, you'll be able to take the saved data from an app or your computer and send it to your other device. You can play the same game no matter what device you are on if you want to play the same continuous game.
User reviews
Despite having to sign up to test out or play any of their games, the customers and visitors who use Erogames are recommended all over the internet. Because of their high-quality games, both with interesting storylines and a wide variety of characters, it is no wonder why their customers keep coming back over and over again.
Even though my membership is free, customers notice that the games published on a website don't skip out on graphics and how much the player can interact with the game. Many customers insist that each of the games on this website feels like a $20 game purchased from Steam.
Conclusion
Erogames is a great website where you can spend hours living out your naughtiest fantasies with some very sexy and horny NPCs. Whatever game style you are in the mood for, this website has it, and it has a lot of it. All of these games are available as long as you sign up for the membership. So even if you find a game that's not your interest, try it out anyway, and you might discover a brand-new passion or kink!
One of the best aspects about this website is that you sign onto a membership, all of your personal data identification, or completely secure. This website takes the safety of its customers and their personal information seriously. If you sign up for these Erogames, you will not see a bunch of spam in your inbox a couple of days later.
Play The HOTTEST Adult Sex Games Ever! Join The Game & Claim A Free Tokens