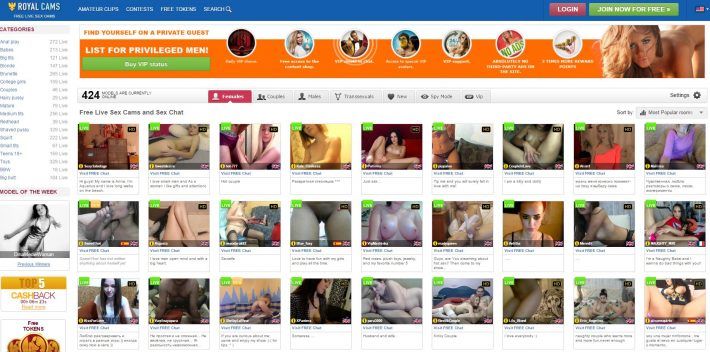 If you haven't tried live sex cams yet, you are missing out a great deal. Live sex cams are far better than recorded and staged porn videos. Recorded porn videos cannot give the level of pleasure live sex cams provide.
WORLD's HOTTEST Sex Cam Site Waiting Just For YOU! Visit
RoyalCams.com
If you try live sex can once, you will never look back at those dull and boring porn again. The real time feel of the live sex cams is far superior and enticing than the more traditional ways of porn.
Many people have turned sex cam enthusiasts after just one session of live cam experience. We found ourselves in the same boat after we tried watching live sex cam, especially in Royal Cams.
About Royal Cams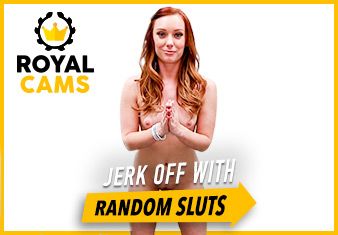 Based out of Cyprus, Royal Cams works with the white label software, BongaCams. There are a few sister websites (CamFuze, Ruscams, BimboLive) which are associated with Royal Cams and works with the same white label software. Although the software is same the sites differ in their token and monetization policy.
Now as the underlying software is same, the quality of BongaCams and Royal Cams is same. But when using Royal cams, you can save a great deal of money over time and get access to additional features as well.
Royal cams has thousands of models online, seducing you, helping you jerk off. There are more videos and live models than you can possibly watch for an year.
The best thing? Seeing all the live cams are free. They will prompt you to sign up multiple times but no sign up is necessary just to watch the live videos.
Premium members can video chat with the streamer in private. And any other premium member can get a sneak peek into that private chat. Peeping costs around one fourth of a private chat.
What do you get?
There are more live cam models than you can imagine. Once you get started, you will be spoilt for choice. As you start going through the live videos, those will leave you wanting for more and you will search for other "hidden" performers in every corner of the website.
There are 6 categories of web cam models in Royal cams.
Females, males, couples, Transsexuals and new live models are there in 5 verticals and the spy mode models (private chat) are there in a different vertical.
In terms of fetishes and preferences, the models are of 31 different types.
Anal Play, Asian, BBW, Brunette, Foot Fetish, Porn Star, Shaved Pussy, Latina, Housewives, Bondage, Redheads, Squirting, Smoking, Babes and Group sex are among the main categories.
You can also filter the models by Language, ethnicity, body shape and age bracket.
Pricing and charges
One of positive sides of Royal cams is there is no charge for premium membership. You just purchase some coins for your use and you will automatically be given membership benefits.
Although seeing the live cam models is free, having private chat with them is chargeable with 60 tokens per minute. Have a private chat with the one you like and you will see that the possibilities are endless.
A 5 minutes private chat will cost you 300 tokens, but if you peep on the show the charges are one fourth of that. You can peep in voyeur mode for 15 token per minute. So, you can peep on a private chat for 5 minutes and you will be charged 75 tokens.
Unlike other live cam shows, there is no hidden charge.
Moreover, the charges for buying tokens will be reflected in your bank statement under the name of EPOCH or Segpay, so that it doesn't raise suspicion. Royal Cams is famous for their discretion and privacy.
Still if you don't want your transactions to be linked to the cam site, you can always pay by bitcoin.
Along with bitcoin, in some countries, sms payment is also allowed.
Credit card charges:
26 tokens cost 1.99 € (~0.08 € for each token)
76 tokens cost 4.99 € (~0.07 € for each token)
156 tokens cost 9.99 € (~0.06 € for each token)
462 tokens cost 24.99 € (~0.05 € for each token)
984 tokens cost 49.99 € (~0.05 € for each token)
1260 tokens cost 65.00 € (~0.05 € for each token)
1480 tokens cost 74.99 € (~0.05 € for each token)
10160 tokens cost 500.00 € (~0.05 € for each token)
20000 tokens cost 990.00 € (~0.05 € for each token)
50800 tokens cost 2,500.00 € (~0.05 € for each token)
Once you get your tokens, you can use them for private video chats with your favorite live cam model.
If she is in any private chat already, you can turn on the voyeur show to enjoy the private chat for yourself.
Alternatively, you can join group shoes, send tips to the models and enjoy cam interactions to better your overall experience.
Promotion and referral
Under the promotion and offers tab, Royal Cams regularly posts offers so that you can purchase coins at a reduced cost.
There is also a referral program in place, so that you can share the website to your friends and collect bonus coins along the way.
Popularity
Royal cams is popular among people in the US and Russia. The website receives around 1.7 million monthly visitors. They also have a reputation for being reliable and following good business practices. The live cam enthusiasts follow Royal cams regularly and keep them in high regard.
Our verdict
Royal cams turned out to be a pretty decent live cam show website. It is easy to navigate and also mobile friendly.
They also get brownie points for being transparent in their charges. There are no hidden fees and charges associated with the token recharges. Flat charges mean you can plan your spending from the start and control them.
Also the quality of models doesn't leave a single point to complain about. The choices are aplenty and you will definitely find everything you may like here. The overall experience not just justifies the charges by Royal Cams, but also delights the viewers.
Click here to access a RoyalCams website and claim a free tokens now!