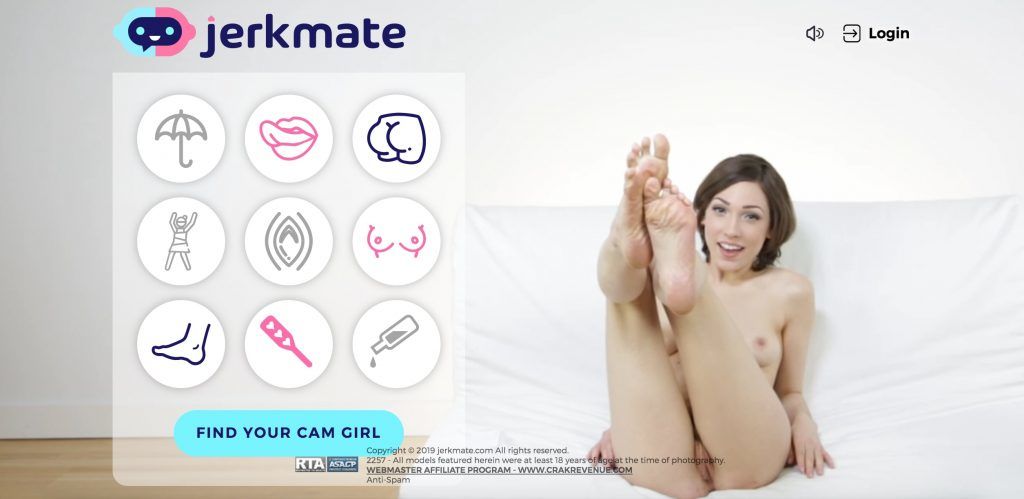 Still searching for some serious Jerkmate Live reviews? We've made this one you can trust. Read below and discover all features, pros, cons and other important stuff.

There are lots of different live cam sites that you can use, but not all of them will meet your needs. Some users have very specific tastes that cannot be addresses with normal vanilla cam sites. If you are someone who wants their inner desires met and you want to have some hot and naughty fun online, it is important to know your options. But luckily, this is the internet, and everything you could ever want it right here.
Jerkmate Live is just one many cam sites on the internet, but it has a lot to offer, so you should not pass it over while looking for a cam site to fulfill your needs.. In this review, we have done the important research and tested out the website. So by using our information, you will learn everything you need to know about this site to make an informed decision.
How Does Jerkmate Work?
The signup process for Jerkmate Live Cams is very simple and straightforward. It is like every other cam website sign up form. The first thing you will have to do is select the gender you are looking for. You don't have to pay anything when signing up, which is always nice. And as an important feature that we consider a bonus, you don't even have to add your credit card number, as many other vanilla and cam sites require. It's drive us nut when this happens, even if we don't plan on buying anything! All you have to do is click the "Create Your Free Account" button at the top of the homepage to get started.
Features
There are tons of categories of live cams to choose from, including Anal, Big Ass, Black, Blondes, Domination, Facial, Fetish, and dozens of others. This means there is something for everyone, so you should have no problem getting your needs met. We suggest you take your time and slowly scroll through all of the option, so you can get a general sense of what JerkMate offers. Who knows, you might even find something new!
You will have the options of participating in group cam sessions with other views as well as one-on-one cam sessions. The group cam sessions don't cost anything, but you will have to pay to view private cams.
If you plan on purchasing a private cam session, it is important to know that some cammers are better performing in groups than on one-to-one. Look at the review for each cammer that you are looking to rent to see if they are a good performer.
There is a search function at the top of the page that can be useful for narrowing down your options. You can search by Region, Features, and other things. This is a very effective way to find the cams you want quickly. You will also have a list of categories below the search box that you can browse through. If you have a premium account you can use the Advanced Search function to narrow down your search results even more effectively.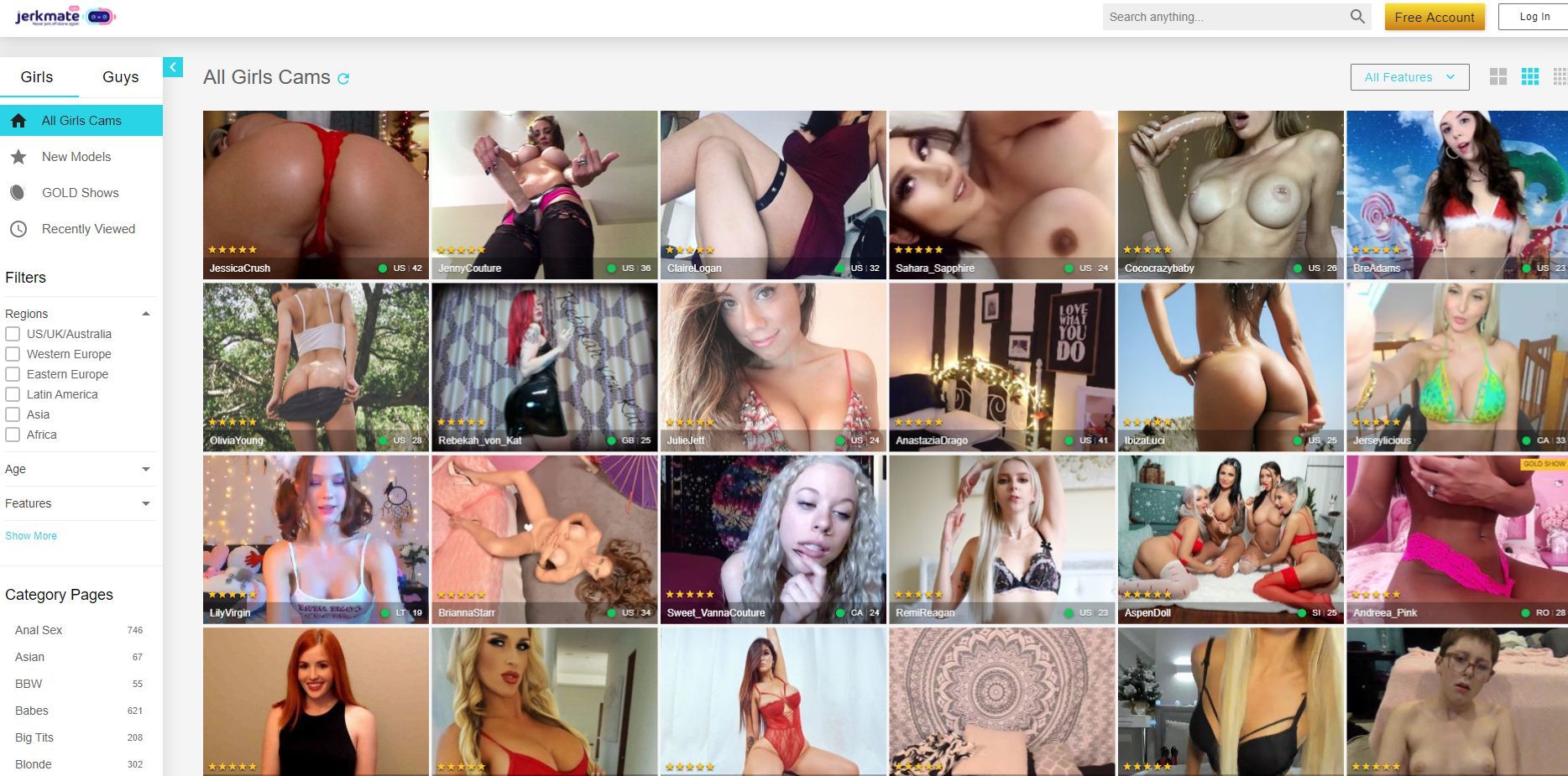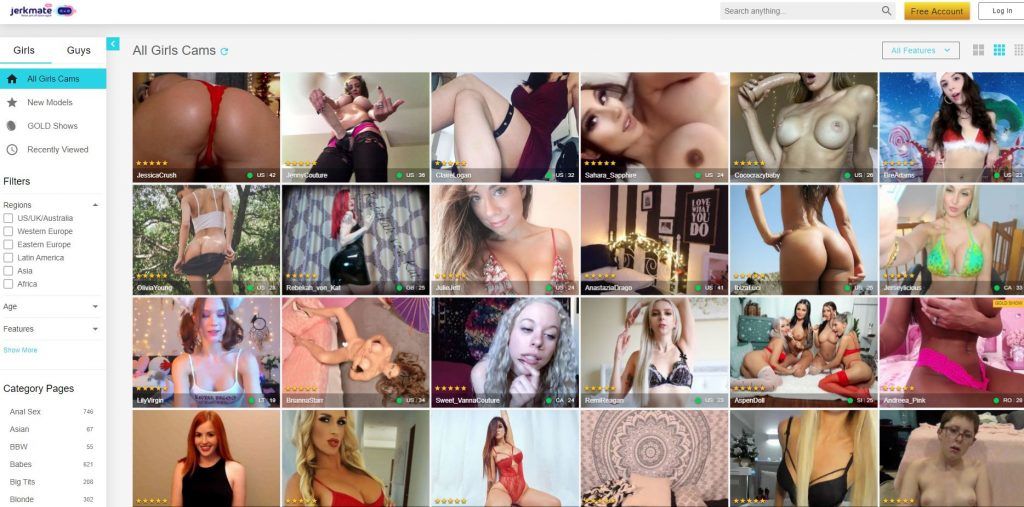 You have the option of sending instant messages to the live cam performers to make certain requests. This gives you an easy way to get your needs met so you can fulfill your deepest fantasies.
One of the best things about this site is that you can watch live cams of known porn stars. This website has some of the best performance you can find on porn nowadays. Just click the "Porn Star" tab to view all of the different performers. You can also find these pornstars by using the search function bar and filtering through the many names that appear. Some of the porn stars even have channels that you can subscribe to. There are a number of different porn stars that regularly do live cams on this site, so you will have plenty to choose from. We were honestly surprised with the amount of variety this single website has. No matter what you were looking for, it is available to you and it comes in many different forms.
This website allows you to find live cams for both men and women. You will select which you are interested when you sign up. It is one of the only sites that has such a huge offering for both genders.
They're also quite a few options if you are a woman. Oftentimes, porn sites are centered completely around men and women are left by the wayside. But this does not happen at JerkMate.com. different types of men that a girl is free to pick and choose from. They have Latinas, black man, white man, Asian man, blondes, brunettes and redheads. You can even choose a man's body type like skinny, muscular, or chubby. And if you are a gay man, there's plenty of variety for you as well. This website is open to all possibilities and sexualities.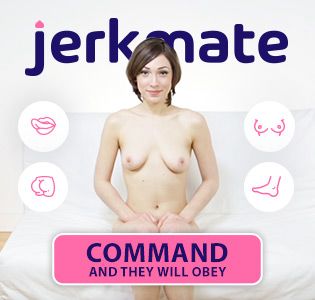 There are also a number of hardcore x-rated videos in the "videos" section of this website that you can watch. You will find tons of different categories of videos to choose from, including Asian, BDSM, Teen, Blondes, and much more. These videos have the hottest performers and you will definitely be able to find ones that you'll absolutely love. It is a great alternative to the live cams, and they are all completely free. You won't need to pay anything to gain instant access to these videos. There is truly something for everyone in this section of the website.
The interactive nature of this website is part of what makes it so popular with so many men and women all over the world. You will be able to give the performer on cam instructions on what you want them to do. This makes it easy to get turned on right away and have a great time without even leaving home. There is no limit to the possibilities when you consider that the performer is there to meet your needs specifically. This is one of the reasons why Jerkmate has earned such a positive reputation for itself in recent years.
Site Design
The overall website layout and design is nice and simple. Actually, compared to many other porn websites, this site layout might be a bit too simplistic. But nevertheless, it is easier to navigate and layout does not become jumble and start to overlap if and you're using different types of browsers. You should have no problems whatsoever with finding the right cams to satisfy all of your sexual fantasies. The search function is placed prominently at the top of the page for your convenience. It doesn't have a cluttered design like so many other cam sites on the internet these days.
Benefits of Using Jerkmate Live Cams
There are a number of benefits that you will get from using this live cam site, including:
Variety: This site offers a wide variety of performers that you can watch one-on-one or in group sessions. You also have a variety of live cam categories to choose from. Variety is also extremely important if there is more than one person watching together. If you are at a sex party or you are with your partner and you wish to indulge in your kinkier sides by watching some cam sessions but you both have wildly different tastes, this won't be a problem if use this website.
Free signup: Signing up on this site doesn't cost a thing, and you won't be required to submit any credit card information. It is an extremely quick process that doesn't take a long time. You will be able to start viewing private live cams within a matter of minutes from the time you visit this site.
Clean layout: The layout and design of this site is clean and easy to navigate through.
Interactive: When you are in one-on-one cam sessions, you can tell the performers to do what you want.
Privacy: Everything that happens between you and your "jerk mate" is kept completely private. Dedication to privacy is one of the biggest problems for all websites on the internet, not just adult websites. This website takes privacy very seriously and does not sell information to third-party vendors.
Easy search: The numerous search filters that this site offers will help you to find the hottest cams to masturbate to.
Drawbacks of Using Jerkmate Live: Is It safe?
Some of the features are reserved for premium members, including the Advanced Search function. While it doesn't cost much to get a premium membership, this is something you should keep in mind.
Cost
The cost of private cams on this website depends on the performer. This means that the price is never the same. You will arrange to pay a certain amount before your private cam sessions starts. You can use any major credit card to make payment. All transactions that go through this site are encrypted and completely secure. You won't have to worry about any of your information being compromised. Paying for these services is a very straightforward process that doesn't require any complicated steps.
Final Thoughts
Jerkmate is one of the best live cam websites on the internet, offering many different performers to make your deepest sexual fantasies come true. You can sign up without paying anything, and it is all very discrete. You also have a huge selection of hardcore videos to choose from. This provides you with the ultimate way to get pleasure in the comfort of your own home in front of your monitor. The website itself has a nice clean layout and is very easy to navigate through. You can use the advanced search function to find the best live cams to match your own personal preferences.
Overall Rating
Summary
JerkMate Live Cam Girls is a whole new way to enjoy porn without the shame of jerking off alone. Go ahead and check out the site where you can get live girls or guys to watch porn with you and share the experience together.
Site Quality

Profiles

Pricing

Navigation